For further information, contact the MBL Communications Office at (508) 289-7423 or e-mail us at comm@mbl.edu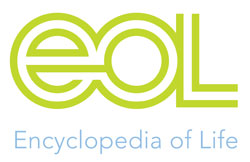 For Immediate Release: September 5, 2011
Contacts:
Ms. Breen Byrnes, Encyclopedia of Life, 202-633-8730; bbyrnes@eol.org
Diana Kenney, Marine Biological Laboratory, 508-289-7139; dkenney@mbl.edu


New Version of the Encyclopedia of Life is Launched
Open source biodiversity initiative provides trusted information on nearly 700,000 species, 35 million pages of scanned literature and over 600,000 photos

Redesigned site now lets users create and share virtual collections


Images


A few of the more than 600,000 photos of species available for download from eol.org:



Indian Peafowl (Pavo cristatus). Credit: Septimiu Pelau.




Lion's mane jellyfish (Cyanea capillata) Credit: Dave Cowles.




Damask rose (Rosa x damascena) Credit: Kurt Stueber.




Australian giant cuttlefish (Sepia officinalis). Credit: Roger T. Hanlon


WOODS HOLE, MA—The Encyclopedia of Life (EOL) today announced a new version of its free portal at http://www.eol.org. Founded in 2007, EOL seeks to increase awareness and understanding of nature by gathering, generating and sharing knowledge on animals, plants, and other life forms in an open, freely accessible and trusted digital resource. EOL has grown dramatically to now include trusted information on nearly 700,000 species. EOL is supported by a community of more than 176 content providers and more than 700 curators who are responsible for reviewing and approving content, and by staff at contributing institutions around the world.

The new version – referred to as EOLv2 – was developed in response to requests from the general public, citizen scientists, educators and professional biologists around the world for a site that was more engaging, accessible and personal. EOLv2 has been completely redesigned to enhance usability and encourage contributions and interactions among users. The product is also fully internationalized with interfaces provided for English, Arabic, and Spanish language speakers.

"The 'new' EOL is sure to capture the interest and imagination of all kinds of users, from schoolchildren to working scientists," said Gary Borisy, president and director of the MBL and a member of the EOL Executive Committee. "The site is much simpler to navigate, with a tab interface on the home page that invites you to explore deeper into EOL's rich, broad, ever-growing content. Over time, you can build a uniquely personalized library of your interests in life on Earth through your interactions with EOL and its users. We hope to spark many, many global conversations on the EOL site about plants, animals, and the Earth's biodiversity."

The EOL Biodiversity Informatics group, which is based at the Marine Biological Laboratory (MBL) in Woods Hole, Mass., developed the software for EOLv2. This group also maintains and builds the hardware environment that serves the EOL website, in collaboration with the Research Computing Group at Harvard University's Faculty of Arts & Sciences.

"EOLv2 will effect an extraordinary expansion of the Encyclopedia of Life, opening its vast and growing storehouse of knowledge to a much larger range of users, including medicine, biotechnology, ecology, and now increasingly the general public," remarked Harvard biologist Dr. Edward O. Wilson, one of the driving forces behind the formation of the EOL.

EOLv2 introduces the ability for its users to gather and share information from its vast holdings as "virtual collections" directly on the EOL site. These collections offer a way to put life into meaningful contexts from scholarly ones such as "Invasive Insects of North America" or "Endangered Birds of Ecuador" to personal collections such as "A Checklist of Trees in My Backyard." The possibilities for this capability are limited only by the imagination and energy of the global EOL community.

"The EOLv2 collections feature is groundbreaking," said Dr. Erick Mata, EOL Executive Director. "It gives us a new way to learn by collaborative construction of knowledge. With this new capability we will be able to bring together citizens, students, educators, conservationists and researchers from around the world to explore the dynamic complexities of the biodiversity these communities care about in real time. This collaborative approach brings a human focus to science and begins to harness the vast creative potential of EOL's users."

EOL is available both as a website and as an embedded resource to third party mobile and desktop applications via the EOL API. All EOL information, including access to nearly 35 million pages of scanned literature created by the Biodiversity Heritage Library, is available for reuse and is licensed under Creative Commons and other Open Access free licenses.

"The new site is a delight to use. My students will love the look and feel. The EOL virtual collections, in particular, will be an invaluable resource in the classroom as we explore the connections among and between species and ecosystems," said Jeff Danielian, a middle school teacher of natural science in Providence, RI. "EOL is the first place I send my students, and encourage them to revisit as often as possible. There is truly nothing like it."

Please visit www.eol.org today to learn about living nature and become a contributing member of the growing EOL global community.

EOL is supported by founding sponsors the John D. and Catherine T. MacArthur Foundation and the Alfred P. Sloan Foundation. Additional support comes from EOL member institutions and donations from around the world.

The Encyclopedia of Life operates as an ongoing collaboration of individuals and organizations who share the vision to provide global access to knowledge about life on Earth. Member institutions include the Atlas of Living Australia, the Biodiversity Heritage Library, the Chinese Academy of Sciences, la Comisión Nacional para el Conocimiento y Uso de la Biodiversidad (CONABIO), the Field Museum of Natural History, Harvard University, el Instituto Nacional de Biodiversidad (INBio), the Marine Biological Laboratory, the Missouri Botanical Garden, NCB Naturalis - the Netherlands Centre for Biodiversity, the New Library of Alexandria, the Smithsonian Institution and the South African National Biodiversity Institution (SANBI). Please visit www.eol.org for more information.

The Marine Biological Laboratory (MBL) is dedicated to scientific discovery and improving the human condition through research and education in biology, biomedicine, and environmental science. Founded in 1888 in Woods Hole, Massachusetts, the MBL is an independent, nonprofit corporation.