---
Announcements
& Accolades
Osamu Shimomura was honored with a plaque during Biomedical Research Day at the Massachusetts State House by the Massachusetts Society for Medical Research.
Gary Borisy received the E.B. Wilson Award for "Far-Reaching Contributions to Cell Biology" at the Dec. American Society for Cell Biology meeting with J. Richard McIntosh (MBL Physiology Course faculty 2006) and James Spudich (MBL Physiology Course faculty, 1984 through 1986 and 2006)
The 2010 MBL Annual Report was awarded a bronze medal by the Printing Industries of New England in their Awards of Excellence Competition. The MBL's Accelerate newsletter was awarded the bronze last year.
The Trustees of the Marine Biological Laboratory recently elected six new Board members. Dr. Ethan A. Lerner of Chestnut Hill, MA was elected to the Class of 2013. Dr. Rita R. Colwell of Bethesda, MD; Dr. Robert Haselkorn of Chicago, IL; Mr. William I. Huyett of Concord, MA; Dr. Walter G. Massey of Chicago, IL; and Dr. Dyann R. Wirth of Boston, MA were each elected to the Class of 2015.
---
Events
March 27
Ecosystems Center Seminar - "Diversity and function of microbial eukaryotes at deep-sea hydrothermal vents" - Pete Countway, Bigelow Laboratory for Ocean Sciences - 12:15 PM, Speck Auditorium

March 28
MBL 101 Lunchtime Seminar - "Toadfish in Space: A Scientist's Experience with NASA" - Steve Highstein, MBL - 12:00 Noon, Loeb G70

March 30
Bay Paul Center Seminar - "Gene transfer, genome structure and innovation" - Kristen Swithers, University of Connecticut - 12:00 Noon, Candle House 104/105

March 30
MBL Falmouth Forum Series - "Honeybee Democracy (co-sponsored by the 300 Committee)" - Dr. Thomas Seeley, biologist and author, Cornell University - 7:30 PM, Falmouth High School

April 10
State of the MBL - Gary Borisy, MBL President and Director - 10:00 AM, Lillie Auditorium

April 18
MBL 101 Lunchtime Seminar - "Learning from Nature: Understanding Jellyfish Locomotion to Build Underwater Vehicles" - Brad Gemmell, Sean Colin, and Jack Costello - 12:00 Noon, Loeb G70

April 20
Bay Paul Center Seminar - "Bug bytes: computational methods for microbial community analysis" - Curtis Huttenhower, Harvard School of Public Health - 12:00 Noon, Candle House 104/105
For full event and course listings, visit our online calendar.
---
Join the MBL in Antarctica!
You are invited to join Hugh Ducklow, Director of the MBL's Ecosystems Center, on a very special expedition to the white continent of Antarctica. Hugh leads the Palmer Antarctica Long Term Ecological Research Project there and spends several weeks at Palmer Station during the Antarctic summer. Please join Hugh and MBL trustees, overseers, and their friends and family on this very special expedition to the Antarctic continent! For details, please contact Martha Tarafa at 508-289-7171 or mtarafa@mbl.edu.
Visit the Science Journalism Program's Antarctica Blog to see what life is like in Palmer Station.
---
MBL Scientists Judge Local Science Fairs
MBL scientists continued thier long support of Falmouth schools, judging three local science fairs recently:
Falmouth High School:
Marshall Otter
Lindsay Scott
Liese Siemann
Tomomi Tani
Anne Thessen
Suzanne Thomas
JC Weber

Falmouth Academy:
Mary Anne Alliegro
Richard Chappell
Antje Fischer
Hap Garrett
John Hobbie
Alan Kuzirian
Hilary Morrison
Sarah Tulin

Lawrence School:
Liese Siemann
Tomomi Tani
Hugh Ducklow Appointed to Antarctic Blue Ribbon Panel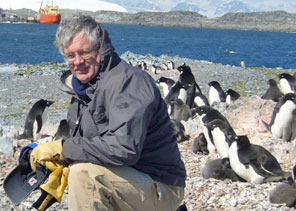 Hugh Ducklow, senior scientist and director of the MBL Ecosystems Center has been appointed to the U.S. Antarctic Program Blue Ribbon Panel tasked with examining the status and capabilities of the U.S. Antarctic Program (USAP) to ensure that it continues to support the most relevant and important science in the most effective, efficient, sustainable, technologically advanced, innovative, safe, and environmentally-friendly manner... More >>>
---
---
Associates News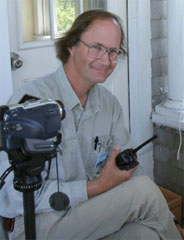 One seminar remains in the 2011-2012 MBL Falmouth Forum season: "Honeybee Democracy," with Dr. Thomas Seeley, on March 30.
Due to renovations being done in Lillie Auditorium the remaining presentation will be held off-campus at Falmouth High School. Please check the MBL Falmouth Forum website for more information.
---
Annual Giving Surpasses $1 Million
More than 1000 scientists, alumni, and friends contributed $1,070,377 to the MBL Annual and Alumni Funds in 2011, exceeding the $1 million goal for the third year in a row. "I want to thank our donors for being part of this thriving, innovative institution," said Jeffrey Pierce, Chairman of the Development Committee. "Your gifts are absolutely crucial in meeting the infrastructure and support needs of MBL students and researchers."
A $1 million Annual Giving program was an important goal of the Catalyst Campaign, which began in 2006 and ends this year. "Having met this goal for three years now," said Pierce, "it now makes sense to set our sites higher, to clear the path ahead for continued advances in MBL science."
Give Now to the 2012 MBL Annual Fund or MBL Alumni Fund.
---
The Biological Bulletin

The cover of the February issue of The Biological Bulletin features the box jellyfish, Tripedalia cystophora. Scientists are interested in jellyfish like T. cystophora because of their impressive vision system. Even though small (1 cm in bell diameter), it has 24 eyes, 8 of which are structurally similar to those of vertebrates. The question of how these jellyfish use their vision is explored in an article in this month's issue.
Please visit The Biological Bulletin online, on Facebook, and on Twitter.

---
Facilities Update
| | |
| --- | --- |
| | |
| Lillie Auditorium with seats removed. The original seats are being restored and re-installed. | |
The Facilities Department is coordinating several ongoing projects around the MBL campus. The Lillie Auditorium renovation includes new carpeting, refinished seating, and new audio-visual equipment. Exterior improvements to Lillie include repair of the rear wall of the building and pump house. The Pierce Exhibit Center is also being completely renovated, with updated information and graphics about the MBL, new carpeting, and video monitors. New high-efficiency windows have been installed in the Marine Resources Center, and painting continues in several areas around campus.


| | |
| --- | --- |
| | |
| | The Pierce Visitor Center undergoing renovations. |
In addition to the many physical improvements currently underway, some departments are being moved to make better use of office space. The Lillie Stock Room is being consolidated next to the Purchasing office, the Center for Library and Informatics is being consolidated in Lillie, while Information Technology is moving to Broderick House, and the Digital Processing Center is moving from Lillie 201 to room 101.

Look for other changes around the MBL through the spring and into the summer 2012. If anyone has questions about the changes occurring around campus, please contact Bill Brosseau in Facilities at extension 7773.
---
Gifts & Grants >>>
---
Run For Discovery!
It's time to start organizing the 2012 MBL All Star Falmouth Road Race Team!
Last year, 22 members of the newly established MBL All Star Team raised more than $11,000! As in the past, fund raising will be managed through FirstGiving.com.
Numbers are limited, so if you are thinking of running in the August 12th Falmouth Road Race, or if you know someone who is, please contact Kristine Johnson at kjohnson@mbl.edu.