For further information, contact the MBL Communications Office at (508) 289-7423 or e-mail us at comm@mbl.edu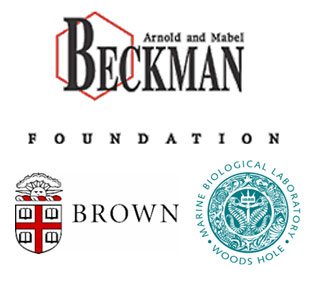 FOR IMMEDIATE RELEASE: May 11, 2011
Contacts:
Diana Kenney, MBL, 508-289-7139; dkenney@mbl.edu
Richard Lewis, Brown University, 401-863-3766; richard_lewis@brown.edu


Resources


Photos:



Harmony Lu, a 2011 Beckman Scholar at Brown, will be conducting research in Puerto Rico on the effects of topography, rock type and community composition on the sources and availability of nutrients in the rainforest. Her mentors are Stephen Porder of Brown and Chris Neill of the MBL.




2011 Beckman Scholar Norian Caporale-Berkowitz will be pursuing research at the MBL titled, "Who's Your Daddy? Tracing the Evolutionary History of DNA Repair Genes in Bdelloid Rotifers." His mentors are Casey Dunn of Brown and David Mark Welch of the MBL.


Brown University, MBL Announce Beckman Scholars


WOODS HOLE, MA—Six exceptional undergraduates in the biological, chemical, or medical sciences will conduct 15 months of research at the Marine Biological Laboratory (MBL) and at Brown University as part of the Beckman Scholars Program, a highly competitive grant recently awarded to Brown from the Arnold and Mabel Beckman Foundation.

The Beckman Scholars chosen for 2011-2012 are Norian Caporale-Berkowitz and Harmony Lu, both of whom are juniors. Brown will select two new Beckman scholars each year over the next two years.

Caporale-Berkowitz and Lu will spend the summer of 2011 at MBL and in the field conducting full-time research, and then continue their projects 10 hours per week during the academic year at Brown. Next summer, they will resume full-time research and prepare to present their results at the national Beckman Scholars Symposium, held annually in Irvine, California.

Brown was one of only nine colleges and universities to be awarded the esteemed Beckman Scholars grant in 2011.

"We are delighted to collaborate with Brown in this prestigious program, which will expand and further strengthen the Brown-MBL Partnership," says Joshua Hamilton, chief academic and scientific officer for the MBL. "We look forward to hosting and mentoring these exceptional young scientists within our research programs."

Directing the Beckman Scholars grant at Brown is Susan Gerbi, George Eggleston Professor of Biochemistry. "Collaborative research involving several approaches and methodologies is the wave of the future," says Gerbi. "The Beckman Scholars grant will enable us to train the rising stars of the next generation of scientists in collaborative research, co-supervised by faculty members at Brown and at MBL. Moreover, the Beckman grant will help to strengthen the research interactions between Brown and MBL." Gerbi was a key figure in the establishment of the Brown-MBL Joint Graduate Program in Biological and Environmental Sciences in 2003, and she is happy to see this partnership extended to include undergraduates.

Chris Neill, director of the Brown-MBL Partnership and a senior scientist in the MBL Ecosystems Center, is coordinating the Beckman Scholars' activities on the MBL campus, including helping to match the scholars with an MBL research mentor.

Caporale-Berkowitz is interested in evolutionary biology and plans to conduct research on bdelloid rotifers, a remarkable group of microscopic, freshwater animals that, although asexual, have somehow diversified into nearly 400 species over 40 million years of evolution. He will be working with co-mentors Casey Dunn of Brown's Department of Ecology and Evolutionary Biology and David Mark Welch of MBL's Bay Paul Center.

Lu will study factors that determine fertility in tropical rainforest soils with co-mentors Stephen Porder of Brown's Department of Ecology and Evolutionary Biology and Chris Neill of the MBL.

The Beckman Scholars program capitalizes on the strong partnership between Brown and MBL, which takes advantage of the geographic proximity of Brown and MBL and their shared expertise in molecular biology and biochemistry, genomics, ecosystems, and environmental science to train students in unique ways. In 2003, the institutions signed a formal affiliation to create the Brown-MBL Joint Graduate Program in Biological and Environmental Sciences. The joint graduate program currently enrolls 20 students and has graduated five PhDs.

In 2010, this collaboration was expanded into the Brown-MBL Partnership, which in addition to the graduate program also established joint faculty appointments, exchanges of faculty, student and postdoctoral scientists, pilot projects and formal research collaborations, and a unique semester-long undergraduate study program Today, 20 MBL scientists have Brown faculty titles and five Brown faculty members have MBL staff credentials. The MBL's Chris Neill was appointed director of the Brown-MBL Partnership in 2010, thanks to a $1.5 million expansion gift from Charles and Phyllis Rosenthal. Brown and MBL also won three highly competitive interdisciplinary federal graduate training grants.

The MBL is committed to undergraduate education, as is Brown. At the MBL, undergraduates participate in the Semester in Environmental Science, an intensive semester-long, research-based program that trains up to 20 students each year, including Brown students. In addition, the MBL offers summer research training through a Research Experience for Undergraduates site grant from the National Science Foundation, as well as other undergraduate opportunities.

The Marine Biological Laboratory (MBL) is dedicated to scientific discovery and improving the human condition through research and education in biology, biomedicine, and environmental science. Founded in 1888 in Woods Hole, Massachusetts, the MBL is an independent, nonprofit corporation.

Founded in 1764, Brown University is the nation's seventh-oldest institution of higher education and a member of the Ivy League. The University provides close mentoring of students and the vibrant engagement of a research-intensive university. Deeply committed to teaching and research, Brown faculty members view graduate and undergraduate students as vital members of their scholarly teams. Brown ranks among top global research universities, with $180 million in sponsored research awards for 2010.


---