For further information, contact the MBL Communications Office at (508) 289-7423 or e-mail us at comm@mbl.edu

For Immediate Release: June 16, 2010
Contact: Gina Hebert, 508-289-7725; ghebert@mbl.edu



Pioneering Development Biologist Victor Ambros to Discuss MicroRNAs in Animal Development and Human Disease at MBL Friday Evening Lecture, June 25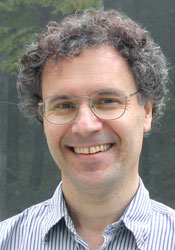 WOODS HOLE, MA—Renowned University of Massachusetts Medical School professor Dr. Victor Ambros will speak as part of the MBL (Marine Biological Laboratory) Friday Evening Lecture series on Friday, June 25. His lecture, "MicroRNA Pathways in Worms and Humans" will be held at 8:00 PM in the MBL's Lillie Auditorium, 7 MBL Street, Woods Hole. The event is free and open to the public.

Dr. Ambros is the Silverman Professor of Natural Science at the University of Massachusetts Medical School. He studies the genetic regulatory mechanisms that control animal development, in particular the molecules that function during animal development to ensure the proper timing of developmental events. In 1993, Dr. Ambros's lab identified the first microRNA, single-stranded RNA molecules that play a critical role in gene regulation. Since then, the role of microRNAs in development has been a major focus of his research.

Dr. Ambros's lab uses the worm Caenorhabditis elegans as a model for studying the genetic programming of animal development. Among the genes that function as important regulators of development in C. elegans are genes encoding microRNAs. MicroRNAs are evolutionarily ancient, and some of the same microRNAs that control development in C. elegans are also present in humans, where they appear to regulate processes related to cancer and other diseases.

Dr. Ambros completed his undergraduate and graduate degrees, as well as his postdoctoral research at the Massachusetts Institute of Technology. During graduate school, he worked with David Baltimore, a co-recipient of the 1975 Nobel Prize in Physiology or Medicine. In 1985, after completing postdoctoral research at MIT in the lab of H. Robert Horvitz, who shared the 2002 Nobel Prize in Physiology or Medicine, Dr. Ambros joined the faculty at Harvard University where he remained until 1992. He served on the faculty of Dartmouth College from 1992 to 2001, and was a professor at Dartmouth Medical School from 2001 to 2007 before joining the University of Massachusetts Medical School in 2008.

Dr. Ambros is a member of the National Academy of Sciences and has received numerous honors and awards including the prestigious Lasker Award and the Gairdner Foundation International Award.

The Friday Evening Lecture Series will continue throughout the summer at the MBL. The remaining lectures in the series are below. For more information, visit the FEL webpage.


July 2, 2010
Susan R. Barry, Mount Holyoke College - "Fixing My Gaze: A Scientist's Journey into Seeing in Three Dimensions"

July 9, 2010
Margaret J. McFall-Ngai, The University of Wisconsin Madison - "Waging Peace: Diplomatic Relations in Animal-Bacterial Symbioses"

July 15 – 16, 2010
Forbes Lectures - Allison Doupe, University of California, San Francisco –
July 15: "Lessons from Songbirds about Basal Ganglia Circuits, Social Context, and Plasticity"
July 16: "What Songbirds Can Teach Us About Learning And The Brain"

July 23, 2010
"Dying Young as Late in Life as Possible: Stem Cells, Tissue Renewal, and Regeneration" - Distinguished Alumni Lecture - Alejandro Sánchez Alvarado, University of Utah School of Medicine; Howard Hughes Medical Institute

July 30, 2010
"The Nitrogen Dilemma: Feed the World or Protect the Environment?" - James N. Galloway, University of Virginia; Recipient of the 2008 Tyler Prize for Environmental Achievement

August 6, 2010
Arctic Americans and Ice Age Animals Versus the Fossil Fuelers" - Peter Matthiessen, Two-time National Book Award-winning novelist and nonfiction writer

August 13, 2010
Joshua Lederberg Lecture - "Telomere Biology in Aging and Cancer" - Woodring E. Wright, UT Southwestern Medical Center

August 20, 2010
"Establishing a Body Plan: Maternal Control of Axis Formation in Drosophila" - Sager Lecture - Trudi Schupbach, Princeton University; Howard Hughes Medical Institute
The MBL is a leading international, independent, nonprofit institution dedicated to discovery and to improving the human condition through creative research and education in the biological, biomedical and environmental sciences. Founded in 1888 as the Marine Biological Laboratory, the MBL is the oldest private marine laboratory in the Americas.