For further information, contact the MBL Communications Office at (508) 289-7423 or e-mail us at comm@mbl.edu


For Immediate Release: December 10, 2009
Contact: Gina Hebert, MBL, 508-289-7725; ghebert@mbl.edu


MBL Helps Launch Offshore Mussel Farms
Pilot Project Joins Scientists, Fishermen, and Industry to Establish Fishery in Southern New England

Photos:


Click on thumbnails for high-resolution images.



Map showing demonstration mussel farms, seed collection sites, and a cooperator's oyster farm (Salt Water Farms) that collects mussel seed on their oyster cages and has begun some pilot mussel farming.




Mason Silkes, American Mussel Harvesters, and Johnny Murt, MBL socking mussel seed.




A University of New Hampshire scientist ties a mussel sock to the longline.




View of longline marking buoy off Martha's Vineyard.


MBL, WOODS HOLE, MA—Marine Biological Laboratory (MBL) researchers, fishermen, and the aquaculture industry are working together to test the waters for blue mussel farming in Southern New England. Four experimental farms were recently established in open waters off Massachusetts and Rhode Island as part of a pilot project aimed at laying the groundwork for a competitive fishery in the region and providing fishermen and working waterfronts with an alternative source of income.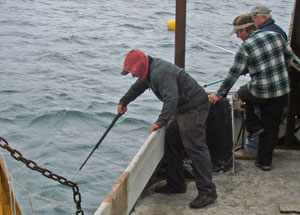 Deployment of mussel longlines in Vineyard Sound with fishermen Alec Gale and Tim Broderick and Rob Reynolds (MBL volunteer). High-resolution image.



This fall offshore mussel farms were established in Vineyard Sound in Massachusetts, and in Narragansett Bay and the waters off Newport and Block Island in Rhode Island. Fishermen are participating in the project along with a shellfish processor who is contributing mussel seed. The project is supported by a $214,000 grant from the National Oceanic and Atmospheric Administration to the MBL.

"Historically, mussels are not a reliable fishery in Southern New England or most places," says project coordinator Scott Lindell, Director of the MBL's Scientific Aquaculture Program. "They are typically wiped out by overfishing, or starfish predation, and that is why there are few wild harvested mussel beds." But mussels have a relatively quick grow-out period, reaching harvestable size within 10 months, as opposed to oysters and clams, which require 2 and 3 years, respectively.

To help combat the predation problem, the pilot study uses an innovative open-ocean system first tested by researchers at the University of New Hampshire. Anchored in 100 feet of water and suspended 30 feet below the surface, 500-foot buoyant longlines hold hundreds of biodegradable "socks" filled with mussel seed. There are several advantages to farming in offshore waters according to Lindell. "The high currents supply ample food to promote fast growing mussels," he says. The new technique also helps to control predation by starfish and avoid infestation by pea crabs, a parasite that appears to impact mussels in calmer near shore waters.

The project is also providing a welcome source of alternative income for lobstermen, scallopers, and oyster farmers who are contributing the use of their boats and labor for maintaining the gear.

"There is an initial investment from the fishermen," says Lindell, "but this declines dramatically once the gear is set and socks are seeded. The best part is they get to reap what they grow. Through this project, we're looking to promote sustainable aquaculture and help fishermen become sustainable stewards of the ocean."

Lindell's hope is that project will lead to a few dozen Southern New England fishermen tending longlines to supply the region with native shellfish. Each longline has the potential to produce 10,000 to 20,000 pounds of mussels per year.

"The potential exists to create a multi-million dollar sustainable industry involving local fishermen, existing shore-side infrastructure, and an underutilized natural resource," adds Bill Silkes, President of American Mussel Harvesters in North Kingstown, RI, an industry partner who is contributing mussel seed for the project.

Lindell and his colleagues are looking forward to the spring when the first group of mussels will be harvested. They are currently exploring funding to develop best management practices that will help streamline permitting for new offshore mussel farms and make their management more profitable.

The MBL is a leading international, independent, nonprofit institution dedicated to discovery and to improving the human condition through creative research and education in the biological, biomedical and environmental sciences. Founded in 1888 as the Marine Biological Laboratory, the MBL is the oldest private marine laboratory in the Americas. For more information, visit www.MBL.edu.