For further MBL News and Media Information, contact the MBL Communications Office at (508) 289-7423 or e-mail us at comm@mbl.edu .
MBL Scientist's Image Captures Fourth Prize in Olympus Photo Competition

WOODS HOLE, MA—A masterful image of chromosomes and spindle fibers during cell division taken by MBL (Marine Biological Laboratory) Senior Scientist Rudolf Oldenbourg has been awarded fourth prize in the 2005 Olympus BioScapes International Digital Imaging Competition. The micrograph, submitted by Oldenbourg and his colleague James LaFountain of the State University of New York at Buffalo, also earned special recognition for technical merit. Oldenbourg's winning image and 20 others are touring the U.S. and are currently on display in the MBL's Swope Conference Center Dining Room through June.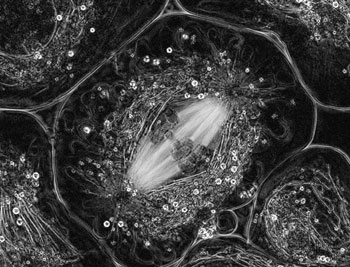 Oldenbourg and LaFountain's winning image, taken with the LC-PolScope, shows the first stage of meiosis in crane fly spermatocyte. Bright spindle fibers span between the two spindle poles. Chromosomes are located in the middle of the spindle and are attached to either pole by kinetochore fibers.
The Olympus BioScapes competition acknowledges the finest images, image series, and movies of life science specimens captured through light microscopes, using any magnification and any brand of equipment. "The winning photos and movies record scientists' findings, demonstrate the extraordinary capabilities of today's research microscope systems, and most important, reveal the always-surprising splendor of the natural world through these moments of discovery," said George Steares, Group Vice President of Olympus America's Scientific Equipment Group. "These pictures combine aesthetic beauty, technical expertise and scientific knowledge to tell stories of great meaning."

Oldenbourg and LaFountain's image of crane fly primary spermatocyte in testicular fluid was chosen from more than 1,100 entries. The image shows chromosomes and spindle fibers during the first stage of meiosis, the type of cell division that results in the creation of sperm cells. It was taken with the LC-PolScope, a patented technology belonging to MBL and licensed to Cambridge Research and Instrumentation (CRi).

The LC-PolScope, developed by Oldenbourg, uses polarized light to generate detailed and high-contrast images of live cells and organisms without using stains or labels. Instead, the images are maps of birefringence, an intrinsic optical property of many cell structures. Oldenbourg and LaFountain are currently studying the mechanisms responsible for chromosome positioning and segregation during mitosis/meiosis.

"Jim and I are grateful to have received this recognition for an image that was captured using a promising new technology," Oldenbourg says. "It is the only black-and-white picture in the top 10 category, which recognizes the clarity and detail available in this format."

To view a gallery of all 2005 winners and honorable mentions, visit www.olympusbioscapes.com.

—###—

The MBL is an international, independent, nonprofit institution dedicated to improving the human condition through creative research and education in the biological, biomedical and environmental sciences. Founded in 1888 as the Marine Biological Laboratory, the MBL is the oldest private marine laboratory in the Western Hemisphere. For more information, visit www.mbl.edu.
Links:
Pol-Scope Allows Scientists to See Cells in a New Light