Back to Catalyst index

MBL Catalyst, Volume 5, Number 1, Spring 2010, "Powerful Partnerships"


Download the full issue (PDF)


Supplemental Material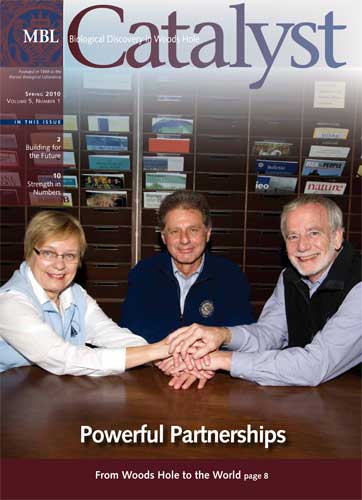 Cover: Woods Hole Consortium directors Susan Avery (president and director, Woods Hole Oceanographic Institution), Gary Borisy (director and CEO, MBL), and William Brown (president and CEO, Woods Hole Research Center) ( T. Kleindinst)

Inside front cover: Loeb Laboratory (B. Liles); Gary Borisy (E. Armstrong)

Table of Contents: Massachusetts Senator Therese Murray and Gary Borisy shake hands at the Loeb Laboratory groundbreaking ceremony (D. Gallagher); Woods Hole Consortium directors Susan Avery, Gary Borisy, and William Brown (T. Kleindinst); Mass. Representative Matt Patrick, Susan Windham-Bannister (Massachusetts Life Sciences Center), Gary Borisy (MBL), Ed McCleskey (HHMI), and Tim Hurdlebrink (Shawmut Design & Construction) at Loeb groundbreaking ceremony (T. Kleindinst); Governor Deval Patrick visits the Marine Resources Center (T. Kleindinst); (left to right): Thomas Tisch, Brown University chancellor; Christopher Neill, Rosenthal Director of the Brown-MBL Partnership; Phyllis Rosenthal; Charles Rosenthal; Ruth Simmons, Brown University president; and Gary Borisy, MBL director and CEO at an event launching the new Brown-MBL Partnership (A. Daubenmire); Loeb Laboratory (B. Liles); handshake (T. Kleindinst); Ed Enos (superintendent, MBL Aquatic Resources Division) holds a jar of seawater aboard the RV Gemma (D. DiCarlo)

Pp. 2-3, clockwise: Loeb Laboratory (B. Liles); Brown-MBL Graduate Program student Yuko Hasegawa (T. Kleindinst); Student in Loeb (T. Kleindinst); At the Loeb groundbreaking ceremony are (left to right): Susan Windham-Bannister (Massachusetts Life Sciences Center), Gary Borisy (MBL), Ed McCleskey (HHMI), and Tim Hurdlebrink (Shawmut Design & Construction) (T. Kleindinst)

P. 4: The Physiology and Embryology courses are archrivals on the baseball diamond, and they keep autographed balls from their annual match-ups in this bucket in Loeb. The tradition will carry forward in the "new Loeb."(T. Kleindinst); Neural Systems & Behavior course students (T. Kleindinst)

P. 5, left to right: Thomas Tisch, Brown University chancellor; Christopher Neill, Rosenthal Director of the Brown-MBL Partnership; Phyllis Rosenthal; Charles Rosenthal; Ruth Simmons, Brown University president; and Gary Borisy, MBL director and CEO at an event launching the new Brown-MBL Partnership (A. Daubenmire)

P. 6: Metaphase in a human cervical carcinoma (HeLa) cell. Chromosomes (red), microtubules (green) (J. Swedlow); Deployment of mussel longlines in Vineyard Sound with fishermen Alec Gale and Tim Broderick and MBL volunteer Rob Reynolds (S. Lindell)

P. 7: Soil bacteria (microbiosensors) engineered to fluoresce green as soil dries around plant roots (Z. Cardon); Spectacular, long-lived vents in The Lost City, located 15 km west of the Mid-Atlantic Ridge (National Science Foundation/University of Washington); toadfish illustration (B. Harmon)

Pp. 8-9, clockwise: Palmer Station, Antarctica (K. Meyers); (inset) Woods Hole Consortium directors William Brown (WHRC), Susan Avery (WHOI), and Gary Borisy (MBL) (T. Kleindinst); Woods Hole panorama (T. Kleindinst); boat in Copenhagen during the United Nations Conference on Climate Change (COP 15) (S. Casper)

Pp. 10-11: Ed Enos (superintendent, MBL Aquatic Resources Division) holds a jar of seawater aboard the RV Gemma (D. DiCarlo); Coccolithophorid, Merismopedia, Proclorococcus, filamentous cyanobacteria (micro*scope/D. Patterson); Several ICoMM partners at a conference in India (left to right): ICoMM Scientific Advisory Council members Dorairajasingam Chandramohan and Kazuhiro Kogure, MBL scientist and ICoMM Program Manager Linda Amaral-Zettler, and Sloan Foundation Vice President Jesse Ausubel (courtesy of L. Amaral-Zettler)

Pp. 12-13, clockwise from left: Massachusetts Life Sciences Center President and CEO Susan Windham-Bannister (courtesy of Massachusetts Life Sciences Center); (from right, foreground): Massachusetts Governor Deval Patrick and State Senator Therese Murray view a presentation by MBL scientist Roger Hanlon of the Marine Resources Center. Behind them are, from right, MBL Director and CEO Gary Borisy, Susan Windham-Bannister, and former Representative Eric Turkington (T. Kleindinst); Susan Windham-Bannister (courtesy of Massachusetts Life Sciences Center); the 2009 Eugene and Millicent Bell Fellows at the MBL, left to right: Swati Mishra, Skander Limem, and Animesh Agrawal of University of Massachusetts Dartmouth (E. Armstrong)

P. 14, clockwise: Heron (S. Bauer/USDA); heterogeneous coculture of neural cells (L. Collis/BRC); Synura sphagnicola sample from sphagnum pond near Neumuenster, Schleswig-Holstein, Germany (W. Bettighofer, www.protisten.de)

P. 15: Localization of Aurora B protein kinase in fixed XL2 cells during mitosis. Left, metaphase. Middle, anaphase. Right, cytokinesis. Cells were stained for immunofluorescence using DAPI (blue) and antibodies to tubulin (green) and Aurora B (red) (J. Swedlow); fluorescence micrograph of a HeLa expressing GFP-aurora-B (green), fixed and stained for microtubules (purple) and DNA (white) (P.D. Andrews)

P. 16: John E. Burris, president of Burroughs Wellcome Fund (T. Kleindinst)

P. 17: MBL investigators and students from Bryn Mawr College, the first college in the nation to offer women graduate education through the Ph.D. Pictured left to right in this 1896 photo are: Abigail C. Dimon, MBL Zoology investigator who later published research on regeneration with future Nobel laureate Thomas Hunt Morgan; Marie L. Minor, Zoology investigator; Grace T. Clarke, MBL Embryology course student; and Ida H. Ogilvie, Embryology course student and later founder of the Geology Department at Barnard College, Columbia University (MBL Archives)

Back cover: Physiology class of 1998 (MBL Archives)

References

Building for the Future (pp. 2-4)
Howard Hughes Medical Institute
Massachusetts Life Sciences Center
Reaching New Heights in Higher Education (p. 5)
The Brown-MBL Graduate Program in Biological and Environmental Sciences
News and Notes (pp. 6-7)
Jaqaman, K., et al. (2010) Kinetochore alignment within the metaphase plate
is regulated by centromere stiffness and microtubule depolymerases. J. Cell Biol. 188, 665–679.

Herron, P.M., Gage, D.J., and Cardon, Z.G. (2010) Micro-scale water potential gradients visualized in soil around plant root tips using microbiosensors. Plant, Cell and Env. 33, 199–210.

Rabbitt, R.D., Boyle, B., and Highstein, S.M. (2010) Mechanical amplification by hair cells in the semicircular canals. PNAS 107, 3864-3869.

Brazelton, W.J., Ludwig, K.A., Sogin, M.L., Andreischeva, E.N., Kelley, D.S., Shen, C.-C., Edwards. R.L., and Baross, J.A. (2010) Archaea and bacteria with surprising microdiversity show shifts in dominance over 1,000-year time scales in hydrothermal chimneys. PNAS 107, 1612-1617.
From Woods Hole to the World (Pp. 8-9)
Strength in Numbers (pp. 10-11)
International Census of Marine Microbes
Census of Marine Life
A Match Made in Massachusetts (pp. 12-13)
The Cell Files (p. 15)
Hands-On Training: An Experiment that Works (p. 16)